The Beginner's Guide to Women's Jeans
Finding the perfect pair of jeans can be quite the task; you don't know what fit suits you best and what materials are most forgiving.
In this blog, we'll teach you how to find the right pair of pants to elevate your style, increase your outfit options, and feel comfortable in.
Find the best rise for you
Jeans come in a variety of rises from ultra-low to high-waisted, but you need to know which one of these will look best on you.
Ultra-low
They were widely popular in the mid to late 2000s. They accentuate your waist and belly, landing right below your belly button. This is an excellent fit if you have a flat tummy and don't mind flashing people when you bend to pick something up.
Low rise
Low rise jeans' waistbands come a little higher than ultra-low waistbands and look cute paired with some crop tops. If you have a flat stomach or abs that you want to flaunt, these will look great.
Mid-rise
Mid-rise jeans suit a variety of body types and shapes. The waistband lands a bit lower than your navel, and you can pair them with literally anything.
High-waisted
One of the more popular jeans fit today but were also hip back in the 80s and 90s. Your mom probably had a few pairs of these back in her day. They hide your tummy and can be worn with almost any style shirt, and they'd look flattering. You can find them in different fitted styles or be comfy with a more baggy fit.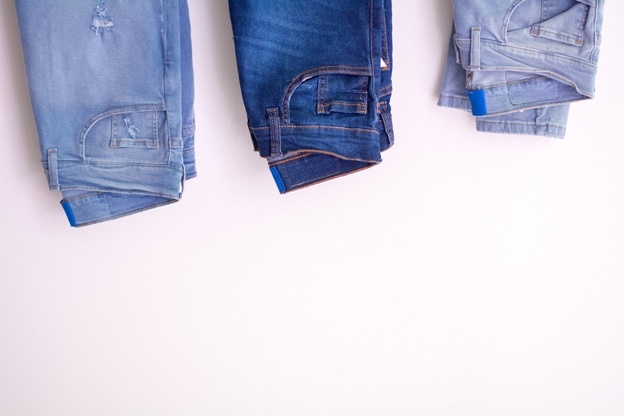 Find the best leg style for you
From extra fit to loose, you can find a pair of jeans with every leg cut.
Regular
Regular jeans generally have a straight cut from top to bottom. They're a universally flattering style and don't necessarily hug any areas of your body. You can rock them with some sporty sneakers and a plain top or dress it up with a blazer or a jacket; the styling options are endless.
Loose
Loose jeans are a relaxed fit that can be found in almost every store, collection, and famous brand. They're one of the more trendy fits because of how comfortable, versatile and cool they are. You can wear them around the house while you lounge or dress them up with heels and be out and about with your friends.
Find the right jeans colours
Jeans also come in a variety of blues, greys, and black tones that look great with most outfits, but here are some of the top ones every woman should have in her closet. We all love a good pair of black jeans, they're easy to style, and you can throw them on with anything.
Of course, we can't forget about the classic light and dark blue jeans that are also a staple; they look good with everything and have a lot of styling options.
If you're looking for a good quality women's jeans collection in Toronto, On, check out our products.
At Jeans Unlimited, we offer an extensive collection of jeans for men and women. We have a variety of colours, sizes, fits, and styles that look flattering on all women.
For more information, reach out to us!